Utilizing technology in today's business architecture is no longer just common practice, it is practically a necessity to survive in the competitive market place. So why is it that many small business owners try and delay the inevitable? We have seen multiple organizations struggle to integrate and manage technology tools internally or reach out for IT support once panic mode has begun. However, taking a proactive approach to partnering with a managed service provider (MSP) can result in an environment that allows you to serve your clients without having to worry  about your critical applications, data loss or other unwelcome surprises.
We understand that partnering with the right IT Service Provider is an investment in your business and a decision that must be weighed carefully. When the majority of your IT budget goes towards maintaining the existing infrastructure, it can be difficult to transition in new tools or systems.  However, as business needs grow, so too should your IT support. Perhaps you currently have an established provider. It may be a difficult for your provider to grow at the pace your organization demands, but you still value the relationship you've built together. Reassessing your needs doesn't mean you need to part ways with someone your organization has built an initial relationship with.  Strategically partnering or outsourcing some of your IT support to an additional provider that can manage a broader scope of IT solutions, could help your organization become more productive, efficient and cost effective. Leverage a MSP's network of vendors to simplify the procurement needs of your organization; or have them assist in the management of compliance standards required in your industry.
A statistical analysis composed by StatsCanada revealed that the most common barriers to the integration of information and communications technology were the lack of in-house technical expertise and skilled personnel, coupled with the high cost of technology and implementation. Most of your resources and budget likely goes to maintaining the stability, security and reliability of your current system. Balancing your budget while trying to transition in new technology initiatives is important to maintaining a competitive advantage.  Working with a MSP who has built an expert team equipped with the access to advanced technology and training means your company gains access to the best equipment and talent available. This leaves your organization time and resources to focus on your bottom line and core competencies.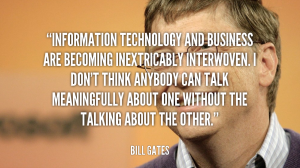 If you take the time to develop a relationship with a trusted adviser, your business can save money and benefit from an IT environment that is robust, scale-able, and allows your company to flourish. By leveraging the expertise that comes with an IT service provider, your organization can be structured in a way that allows you to compete directly with the biggest players in your space, and win.
Be sure to check out the image below, where we debunk the common myths centered around IT Service Providers!